From Rolled Rings to the finished bearing
Our slewing bearings are produced with modern CNC-manufacturing machines at our facility in the German city of Bautzen. Our customers benefit from our technical know-how as well as our experienced highly-qualified technicians who ensure the reliable production of the final product.
Our optimized and efficient production process allows us to manufacture your slewing bearing with a short period of delivery while still maintaining the high quality expectations of our company.
Drehen
Drehen aller Plan- und Umfangsflächen sowie der Laufbahnen auf CNC-Karussell- und Universaldrehmaschinen
Bohren
Bohren von Durchgangs- und Gewindebohrungen auf CNC-Portalbohrwerken
Verzahnen
Fertigung der Innenverzahnung oder Außenverzahnung auf CNC-Wälzstoß- und CNC-Wälzfräsmaschinen
Härten
Induktives Härten der Laufbahnen und der Verzahnung auf Induktionshärteanlagen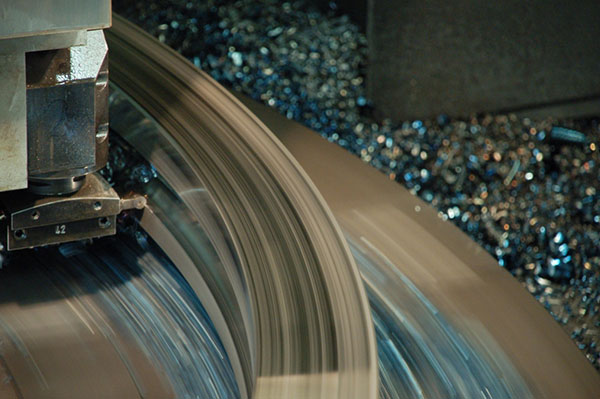 Feindrehen / Schleifen
Feindrehen oder Schleifen der Laufbahnen, Zentrierungen und anderer Oberflächen
Prüfen
Prüfung der Einzelringe auf Maßhaltigkeit sowie Oberflächenhärte und Härtetiefe der Laufbahnen
Oberflächenschutz
Behandlung der Oberflächen durch verschiedene Verfahren (z. B. Gelbchromatieren, Flammspritzverzinken, Lackierungen etc.)
Montage
Montage der Ringe, Wälzkörper, Abstandshalter, Dichtungen und gegebenenfalls anderer Sonderteile
Endkontrolle
Kontrolle der fertigen Drehverbindung, z. B. des Lagerspiels, der Rund- und Planläufe, Drehmomente, sowie Erstellen der Protokolle
Fetten / Konservieren
Befüllen des Laufbahnsystems mit Standard- oder Spezialfett, anschließend Konservierung zur Einlagerung